Rankings and

Testimonials
Ranked
#
2
in
Kolkata
#
4
in
East India
-(TOI B School Survey, 2021)
Jayeeta Sinha
Getting placed in Giant Eagle as a Merchandising Analyst is a dream come true for me. The unique approach of learning at Praxis offered both conceptual clarity and an application-oriented methodology. I thank the faculty and placement team for giving me this opportunity.
Jayeeta Sinha
Merchandising Analyst, Giant Eagle
PGDM, Praxis Business School,
Class of 2022
M.Sc Computer Science,
Assam University
Shreyoshi Pal
Getting a role desired in the first job is a big deal, and I couldn't be happier. I owe my success to the faculty and placement team for their guidance, training, and personalized attention during the program. I thank Praxis for teaching me "how to learn".
Shreyoshi Pal
Merchandising Analyst, Giant Eagle
PGDM, Praxis Business School,
Class of 2022
BBA,
Kazi Nazrul University
Sriram Santosh Bal
Tell me and I forget, teach me and I may remember, involve me and I learn." –Benjamin Franklin; this is exactly what I experienced at Praxis. The phenomenal faculty and the well designed curriculum helped me structure my thought process. I obtained valuable insights from industry veterans, and prepared myself for the corporate world with the learning derived from the classes, the informal interactions with the faculty team and from my peers in the corridors of our wonderful hostel. Grateful to My Alma Matter for what I am today!
Sriram Santosh Bal
Associate Director, Relationship Management
Standard Chartered Bank
Praxis Class of 2011
Sharath Ghosh
The Praxis ecosystem enables learning of a very high order; Praxis has the most unbelievable faculty team– individuals with the highest academic pedigree and significant industry experience. I owe my success entirely to my two years at Praxis. If you seek the knowledge and skills to perform in the industry, Praxis is the place for you
Sharath Ghosh
Advanced Analytics Manager
Abbott Switzerland
PGPBM Class of 2012
Richa Prasad
It's a whole different world in Praxis where you gain your own experience, learning skills, develop your personality and be ready for the world, to be the Manager, to be the Future Leader. The Teaching style is completely different at Praxis with interactive discussions and the urge to learn more. This is where I learnt to apply concepts, develop reasoning capabilities and think out of the box. The placement experience is thrilling and bagging a job in Tata Steel was a dream come true.
Richa Prasad
Management Trainee Commercial
TATA STEEL Bsl Ltd.
PGDM Class of 2020
Gurcharan Singh
I built castles in air; Praxis helped me in building the base on which those castles now stand in
reality! Thank You – Praxis Business School for everything.
Gurcharan Singh
Senior Associate 2
PwC India Acceleration Center
Class of 2013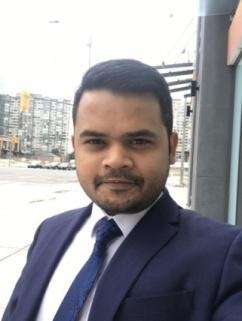 Piyush Das
The two years I spent in Praxis gave me much more than I expected. It made me industry ready with the right attitude and right aptitude. The kind of focus the management has on each student is phenomenal, They ensure they make something out of you. Kudos to Prof.Charanpreet and team Praxis Business School
Piyush Das
Branch Manager
ICICI Bank Canada
Class of 2013
Praxis is driven by the purpose of creating resources that will lead India's transformation in the digital world. These leaders will be value-driven, will embrace diversity, will be tech and data-savvy, will communicate effectively, and will have the agility to respond skilfully to the rapidly changing global environment.
The objective of one of Top PGDM Course in India is to empower students with the knowledge, skills, analytical ability, and management perspectives needed to provide leadership to business enterprises in a world that is becoming increasingly digital and fiercely competitive. Students engage in learning the fundamentals of business and their application in the real world, and how to think and apply analytical tools for intelligent decision-making.
Praxis provides an environment that is conducive to learning and growing as individuals. We give you the freedom to think, question, discuss, debate, absorb, experiment – learn by doing and learn without fear.
Top ranked PGDM in Kolkata & East India
Industry-aligned faculty-mentored experiential learning
Expert faculty team with strong industry exposure
Superior campus placements
Access to global Praxis Alumni Network
Program Coverage
Placements
Program Fees & Scholarships
Eligibility
Selection Process
Online Fee Payment
The PGDM is a two-year, full-time program and includes a two-month summer internship program (SIP).
The first-year courses are compulsory for all the students and educate them on the essential functions of business enterprises. In response to the rapidly changing demands of the industry, the first-year curriculum has been re-designed to include courses that address emerging skill areas:
| | | | | | |
| --- | --- | --- | --- | --- | --- |
| Business Functions | Economics | Finance | Marketing | Human Resources | Operations |
| Soft Skills | Communications | Business Ethics | | | |
| Digital Skills | Data Science | Data Visualization | Digital Business Management | Fintech | |
At the end of the first year, all the PGDM students pursue a two-month internship with a business enterprise. The Praxis Placement Program invites companies to conduct the campus summer internship selection process and select interns. The internship provides the students first-hand experience of the business world – the application of the principles of business management they have learned over the past year.
In the second year, students can specialize in one or more of the traditional business functions and/ or in new-age skills like business analytics and digital business management. Praxis also offers super-specializations in job-focused areas like consumer insights & market intelligence, financial risk management, consumer banking, and project finance. The objective is to enable students to strengthen themselves in the areas of their interest and aptitude and become productive day-one in the industry. At Praxis, students have the freedom to opt for electives across functional areas.
Core Courses
Digital Reday Super Specializations
Curriculum Design
Core Courses
Business Law
Strategic Management / Sustainability
Business Ethics
Cost and Management Accounting
Data Visualization and Storytelling
Financial Management 1
Financial Management 2
Financial Reporting and Analysis
Foundation of Digital Business
Foundations of Data Science
Foundations of Fintech
Human Resource Management
Macroeconomic Theory and Policy
Managerial Communication
Managerial Economics
Marketing Management 1
Marketing Management 2
Marketing Research
Organizational Behavior
Production and Operations Management 1
Production and Operations Management 2
Quantitative Techniques 1
Quantitative Techniques 2
Sales and Salesforce Management
In this digital age Human Resources are at the centre of a company's digital transformation that instills the HR function to facilitate responsiveness and adaptiveness of activities and structures related to the digital age. Our HRM concentration consists of courses like Competency Based Performance Management, HR Analytics and Strategic Human Resource Management for the Digital Age. This helps the students:
Develop distinctive competence in terms of performance advantages in the transformed
business model
Derive detailed inferences by analyzing the HR data through HR analytic tools and techniques
Frame and execute agile HR strategies that contribute to business strategies.
Talent Management and Competency Based Approaches
Human Resource Information System
HR Analytics for Managers
Strategic HR for Digital Age
Leading By Example
The digital world is generating increasingly large amounts of data. Companies access, store and analyse this data to increase their revenues, decrease their costs and reduce their risks. Data is the new oil and managers who have the skills to analyse this data and use it for decision making are in great demand. The Business Analytics concentration will dive into specific business analytics and data skills, including Statistics, Econometrics, Machine Learning Deep Learning etc. and teach you to see business issues in different industries through a data-driven approach. You'll get hands-on practice using the most up-to-date Business Analytics and visualization tools, complete case studies and execute projects, some of which may involve real-world data.
Foundations of M&L (with GUI Tools)
Foundations of OLAP with RDBMS / Spreadsheets
Foundations of D&L and AI
Econometrics & Time Series
Advanced Market Research & Analytics
Digital Media Analytics
Practical Cloud Computing (Azure / AWS)
Data Security & Privacy
Healt / Telecom / Agri Analytics
This vertical specialization in Digital Business Management is aimed at preparing professionals in a business environment that is increasingly driven by digital technology. The curriculum and pedagogy are designed to impart knowledge about technologies that are required to manage a business in the digital world. There is a strong focus to learn the relevant technologies to a reasonable depth through intensive hands-on assignments, projects, and case studies backed. Students can bag job roles as Product Managers, IT Consultant/ Digital Transformation Consultants, Category Manager/ Revenue Managers in e-commerce companies, Project Leads/ Scrum Masters for Agile projects, Digital Marketing Manager/Specialists, Business Analysts in the area of Digital Business Management.
Digital Transformation
Digital Marketing
E-Commerce and Digital Supply Chain
Digital Asset Design & Development
Industry 4.0 (ERP / Robotics / IOT / Smart Factory)
Digital Media Analytics
Practical Cloud Computing (Azure / AWS)
Data Security & Privacy
Corporate firms and Banks are implementing risk management practices to combat risks arising from the highly integrated and volatile financial markets. There is also an increased focus on Fixed Income Securities, International Finance and Valuation. Praxis has decided to offer a concentration in Financial Risk Management to leverage the demand for well- trained professionals in this field. The curriculum captures both the relevant theory and practice elements.
Derivatives
Fixed Income Securities
Financial Statement and Valuation
Risk Management
International Financial Management
Stock Price Prediction and Analysis
This area is facing rapid transformation due to the impact of technology, data, and digitization. Traditional banking and financial services have been affected in the areas of industry structure, the legal/ regulatory environment, service delivery systems, security markets, and customer expectations. The course comprises inputs in the areas of finance, Marketing of Financial services, security analysis, portfolio management, project appraisal & financing, and retail banking – enabling the students to understand the cross-functional play in the finance industry and preparing them to create successful careers for themselves in this area.
Students can bag job roles as Management Trainee, Assistant Manager, Manager in the areas of Commercial Banking, Project Appraisal and Finance, International Finance.
Commercial Banking
Marketing of Financial Services
Project Appraisal and Financing
Security Analysis & Portfolio Management
Retail Banking
Understanding "consumer needs" and sourcing "market-related data" has always been the starting point of all Marketing activity. Lately, the importance of these has increased manifold with larger availability of data on consumer transactions, growth in media channels, increase in online buying, and digitization of consumer feedback. Businesses stand to gain substantially if this data on consumer insights and market structures can be mined creatively. Praxis has created a unique course in this fast-growing area of Consumer Insights and Marketing Intelligence by integrating relevant subjects of Marketing, Analytics, IT, and Operations. The program will be relevant for careers in Consumer Insights for several verticals like FMCG, Consumer Durables, Media, Banking, Telecom, and Retail. It will also groom students for roles like Brand Management, Advertising, and Market Research.
Advanced Market Research & Analytics
Retail Management
Sales and Distribution Management
Product and Brand Management
Consumer Behavior
Retail Operations
Integrated Marketing Communication
Foundations of Machine Learning (with GUI Tools)
Foundations of OLAP with RDBMS / Spreadsheets
Foundations of Deep Learning & AI
Econometrics & Time Series
Advanced Market Research & Analytics
Digital Media Analytics
Practical Cloud Computing (Azure / AWS)
Data Security & Privacy
Health / Telecom / Agri
Curriculum design, delivery, and assessment
The curriculum is designed with the objective of striking a balance between theoretical knowledge, practical understanding, and skill development. Praxis collaborates extensively with the industry to fine-tune course content. Courses are delivered in a combination of classroom lectures, case discussions, labs, and projects by a faculty team characterized by high academic pedigree and substantial industry experience. The classroom is the arena for discussion, debate, presentations – leading to a high-energy learning environment. Praxis follows a continual assessment process for all its courses using a combination of exams, quizzes, projects, assignments, quizzes, and class participation. Students are assessed for their ability to think rather than learn by rote – as a result, several exams are open-book and open-notes.
This is only an indicative list of courses. Praxis reserves the right to add, delete, or modify courses according to the latest developments. Furthermore, an elective will be offered contingent upon a minimum number of students opting for it.
Graduates with a minimum of 50% in any discipline from a recognized or deemed university
Students appearing for final year degree examination can also apply
Valid score in any of the entrance examinations CAT, XAT, CMAT, GMAT, MAT, ATMA
The PGDM program is approved by the All India Council for Technical Education (AICTE, Ministry of Human Resource Development, Government of India) and the admission process is as per AICTE norms.
Online Application at wwww.praxis.ac.in
Essay Writing

Personal Interview
Praxis Business School has a profile based selection with the following weightages:
Academic Scores (Class X, XII & Graduation) – 35%
Performance in the Personal Interview – 35%
Ministry of Education approved entrance examinations – 20%
Work Experience & Extracurricular Activities – 10%
Assessment Dates
January to May, 2022
Course Commencement
July 2022
The renowned Praxis Placement Program is committed to creating quality placement opportunities for its students. We believe that placements are more a fall-out of doing the right things rather than an isolated exercise. This is well reflected in the final placements for the Class of 2021 where Praxites were able to win exciting profiles in reputed organizations across a multitude of industries and sectors, even during these challenging COVID times.
Final Placement Statistics for the Class of 2021
INR

13.5 LPA

Highest CTC

INR

7.02 LPA

Average CTC
Key recruiters across sectors
All figures in Indian National Rupees INR
Pay by
Admission
7 days of Offer
First
28 days of Offer
Second
October 15,2022
Third
June 15, 2023
Fourth
October 15,2023
Program Fee
| | | | | | |
| --- | --- | --- | --- | --- | --- |
| Admission Confirmation | 51,000 | | | | |
| Tuition Fee | | 160000 | 160000 | 160000 | 160000 |
| Course Material | | 25000 | 25000 | 25000 | 25000 |
| Library & IT Infrastructure | | 5000 | 5000 | 5000 | 5000 |
| Campus Maintenance | | 10000 | 10000 | 10000 | 10000 |
| Total Fee | 51000 | 200000 | 200000 | 200000 | 200000 |
| Caution Deposit (Refundable) | | 30000 | | | |
| Installment – Day Scholars | 51000 | 230000 | 200000 | 200000 | 200000 |
Living Expenses
| | | | | | |
| --- | --- | --- | --- | --- | --- |
| Hostel Fee | | 50000 | 50000 | 50000 | 50000 |
| Installment – Hostel Residents | 51000 | 280000 | 250000 | 250000 | 250000 |
Total Fee payable by Non-Resident students: Rs. 851,000
Total Fee payable by Hostel Residents: Rs.1,05,1000
Security Deposit (Refundable) : Rs.30,000
* Single room hostel accommodation is available at the Praxis campus for interested PGDM students. The above tariff is for stay during the conduct of classes from July to March and does not include food charges that are payable as per prevailing canteen rates.
Refunds: As per AICTE Norms
Laptop: Each student must have a Wi-Fi enabled personal laptop before the start of classes.
Educational Loans
Students may approach any bank for educational loans. Praxis has loan arrangements with Axis Bank, IDBI Bank, Credila Financial Services, Avanse Financial Services for student loans, details of which would be furnished on selection.
The Praxis Scholarships are divided in 3 categories:
Director's Merit List – 8 scholarships
Praxis Business School Foundation Scholarships – 8 scholarships
Women in Tech Scholarships – Applicable for all Women aspirants fulfilling the scholarship criteria
The total amount of scholarships on offer:
Up to INR 40 Lakhs for Director's Merit List and Praxis Business School Foundation Scholarships
INR 1 Lakh for each women aspirant fulfilling the criteria for Women in Tech Scholarship
The Scholarships entail the following process:
All students who meet the criteria for the scholarships can apply for the same.
A student can apply to scholarship under a single category at the time of admission
The performance of the Scholars will be monitored closely for the renewal of the Scholarship every year*.
Students need to maintain a minimum CQPI every trimester to be eligible for continuing with the scholarship*.
The decision of Praxis Business School is final and binding in case of awarding the scholarships.
*Applicable for Director's merit list and Praxis Business School Foundation Scholarships
Praxis Women in Tech (WiT) Scholarships
Praxis WiT (Women in Tech) Scholarships is an initiative to encourage and support greater women's participation in tech and data careers. This is in line with our belief that gender diversity in the workforce, especially in tech, brings immense value to the organization, the economy, and society.
The Praxis Women in Tech (WiT) Scholarship will be awarded to all women aspirants applying for the top-ranked AICTE-approved 2-year full-time PGDM at Praxis.
Why Women in Tech:
Digital is largely about tech and data and people proficient in tech and data are poised to play leadership roles in shaping our world
Women are acutely under-represented in the fields of tech and data, despite global conversations on gender diversity in the workforce
The world needs more tech and data talent and women can fill this gap and drive sustainable careers and financial independence
Decades of research suggests that diversity leads to enhanced innovation and problem solving and more women in tech implies better solutions to global problems.
Eligibility Women aspirants, applying for the Praxis WiT Scholarship in PGDM need to fulfill the following qualifying criteria:
Valid Scores CAT/ XAT – 70 percentile; CMAT – 75 percentile; MAT – 80 percentile
Scholarship Amount: INR 1 lac
(Applicable PGDM fees for WiT applicants is INR 7.51 lacs)
Eligibility: Students need to have the following qualifying scores
Class X – 80%
Class XII – 80%
Graduation – 70%
In addition, there should be no year-gap or backlogs during the academic career.
Students should have scored a minimum of 80 percentile CAT/ XAT or 85 percentile in CMAT or 90 percentile in MAT/ATMA.
Scholarship Amount Rs. 2,00,000 (Rs.50,000 per installment)
Condition for continuation of the scholarship
Students under the list need to fulfill the following conditions failing which the scholarship will be withdrawn.
Be in the top 25% of the class and maintain a minimum CQPI of 5.2 out of 8 in each trimester
Eligibility: Students need to have the following qualifying scores
Class X – 75%
Class XII – 75%
Graduation – 60%
In addition, there should be no year-gap or backlogs during the academic career.
Students should have scored a minimum of 70 percentile CAT/ XAT or 75 percentile in CMAT or 80 percentile in MAT/ATMA.
Students seeking the scholarship need to submit income proof affidavit to [email protected]
Scholarship Amount Rs.3,00,000 (Rs.75,000 per installment)
Condition for continuation of the scholarship
Scholarship students need to fulfill the following conditions failing which the scholarship will be withdrawn:
Maintain a minimum CQPI of

4.5

out of 8 in each trimester
Actively participate in Extra & Co-Curricular activities held.
Online fee payment for PGDM
Please note: For online fee payment, the following payment gateway charges will apply and have to paid by the applicant
Details
Charges
Credit Card Transactions
1.1% + Taxes as applicable
Net Banking Transactions
Rs. 20/– + Taxes as applicable
Debit Card Transactions
(above Rs. 2000)
1.0 % + Taxes as applicable
International Card Transactions
2.65 % + Taxes as applicable
AMEX
1.40 % + Taxes as applicable
Wallets (Money on Mobile/ MobiKwik / Oxigen / Pay u Money /Citrus Money)
1.95 % + Taxes as applicable
Cash Collection Centre
2.00 % + Taxes as applicable
UPI
Rs. 18
On clicking the link below, you will be taken to the Praxis Fee Payment Portal hosted by Schoolpay (for PGDM) / Aim Education Fee Payment Portal hosted by Schoolpay