WOULD YOU SACRIFICE 10 FRIENDS FOR A BURGER?
In 2009, about 82,000 Americans terminated around 230,000 friendships on Facebook for free burgers, all within the span of a week.
Whopper sandwiches are allegedly "America's favourite burger" according to Burger King, the manufacturer of the product.
Burger King launched a promo Facebook app in 2009 in order to test their own claim. Anyone using the app would be asked to 'sacrifice' 10 friends on Facebook, for a 'free' Whopper coupon. They called it the Whopper Sacrifice.
Now, usually when you delete friends or acquaintances from Facebook, it's a silent affair. But Burger King publicly announced on the removed friend's wall that their friendship had been sacrificed for a Whopper. And the post on the app user's wall confirmed that Whopper is more important than these 10 friends combined. Although Burger King gave users the option of backing out, once posted, it could not be undone. They actually tracked the users to check if any of the removed friends were being added back. When Burger King said sacrifice, they really meant it.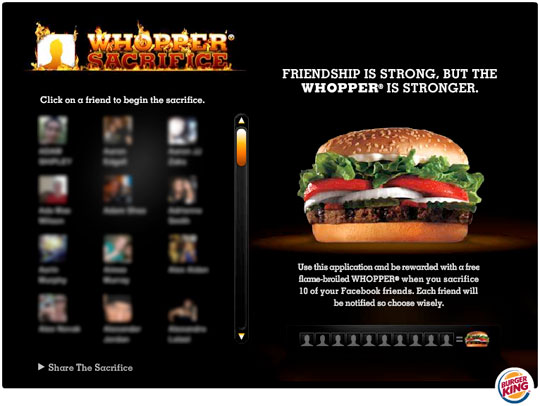 The campaign sparked off a media storm and people began questioning the authenticity and basis of Facebook friendships. Now that of course didn't look good on Facebook's part. In order to control the damage, they had Burger King disable the friend-removal service from the app.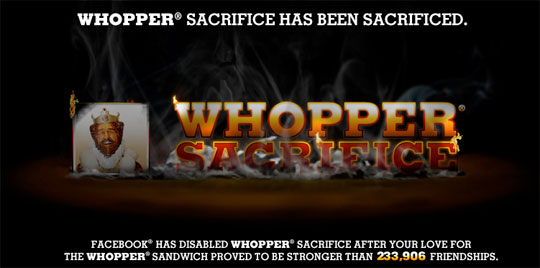 It is the first time that a brand used social media to trim a user's network, rather than grow. But the results, speak for themselves.