SOCIAL MEDIA LASHES OUT AT OLA CABS FOR SEXIST AD
Ola's #ChaloNiklo was a great ad campaign. It capitalized on the urgency of getting a cab on time. Communicated through relatable instances from our daily lives, it hit the nail right on the head.
Late for work after you fell asleep at a party? Chalo Niklo.
Had an embarrassing moment at a gathering/party? Chalo Niklo.
https://www.youtube.com/watch?v=q4aGwTgpa-4
The brand image that was built through that campaign is that Ola is quick and understands your urgency – a reliable companion in today's fast-paced world. Sometimes we get back home late. Sometimes we waste precious time looking for cabs when we're already running late. We want fast. And we want it now. Ola sounds like a good option.
Ola has been expanding and now offers a new service – the relatively cheaper Ola Micro. But before Ola could consolidate its nascent brand image, their sexist online ad has compromised their reputation and image massively.
https://www.youtube.com/watch?v=cW9h_L0nD4k
Even though they've taken it down and apologised, they've successfully managed to alienate a lot of sensible men and women… not just feminists and girlfriends as some would think.
They've made matters worse with bad online reputation management. This bleak reply outraged their customers even more: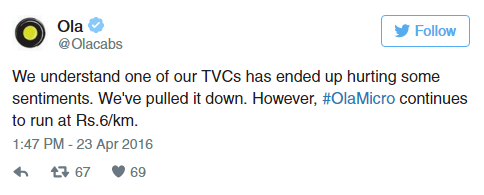 Bad move, Ola!
If you watch the other ad involving a kid and a father, you'll see that the campaign kind of works.
Branded nicely as "Micro Stories" the title also communicates well, "How much does it cost to take your kid home?"
"My kid runs at Rs 125/km. But Ola Micro runs at Rs 6/km"
https://www.youtube.com/watch?v=EXgyPHjKXBY
How does this work and the other one fail? Are children not as important? Of course they are. But a child is not independent. A child requires constant care and attention. A child has a guardian who takes care of her/his needs.
Besides, when the child demands things, there's something sweet and endearing about it. But the one involving the girlfriend is anything but – and it sends across the message that women are manipulative and unless you spend on them, they'll leave you. Seriously, Ola?
Ads have historically been sexist and have perpetuated ugly stereotypes.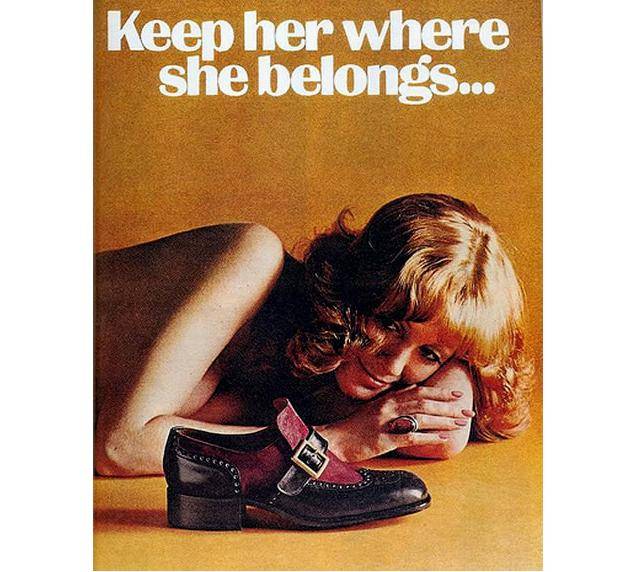 But if you're in the 21st century, using 21st century means (digital media) to promote your business, interacting with 21st century customers (hopefully a little less patriarchal) – you want to keep up with the times. Ola unfortunately transported itself back to the Victorian age.