Masters ICT in Data Science
The Polytechnic College (PTC) Suriname, University of Applied Sciences has tied up with Praxis Business School, Kolkata, India to offer a Masters program in Data Science.
The 2-year program is conducted online and comprises 640 hours of instruction.
Why choose this Master's Program? Make the most of the unique features of this program:
You will start programming, learning and applying data science methods from Day 1
More than one year of coursework in collaboration with businesses providing real-life data challenges.
This practical experience is deeply valued by employers and will allow you to launch your career in Data analytics
Become a part of a close-knit community of students, researchers and companies.
Graduate with a Diploma awarded by both The Polytechnic College Suriname University of Applied Sciences and Praxis Business School.
Data Science is an intersection of disciplines like Statistics & Machine Learning, Programming, Business Management & Communication.
Technology Skills:
An understanding of a wide range of tools like Python, R, Spark, Excel, SQL, SAS, Hadoop, MongoDB (NOSQL), Amazon AWS (EMR / EC2), QlikView and Tableau that are commonly used to extract, analyze and visualize data.
Statistical Modeling and Analytical Skills:
Knowledge of Statistics, Data Mining, Machine Learning and Deep Learning techniques and the ability to create predictive models. Applying data science to business situations: a fair understanding of business functions like marketing, finance, human resources, operations and the application of Analytics in verticals like BFSI, retail, telecom, healthcare etc.
Communication and Visualization Skills:
The ability to tell an effective story through Data and Infographics.
Study Features:
Study duration 2 years
Diploma Master
Language of Instruction: English
Investment: $7000
Contact moments: 640 hours online
Program Objective:
The program is driven by the overarching purpose of creating resources that will play leadership roles in the tech and data-driven digital world. The specific objective of the Master's Program in Data Science with ML and AI is to empower the learners to transition into the exciting world of Data Science, and everything about the program – the design, the delivery, the assessment methods – is aligned to achieve this objective.
Learning Outcomes:
Students who have completed the Master's Program in Data Science will be, through immersive learning, collaboration with peers, and hands-on-experience, be able to:
Apply quantitative modeling techniques to solve real-world business problems, interpret findings, and present results using data visualization techniques.
Obtain, clean, and transform data.
Employ cutting edge tools and technologies to analyze structured, semi-structured, and unstructured Big Data.
Demonstrate knowledge of statistical data analysis, machine learning, and deep learning techniques in data-driven decision making across multiple functions and industry verticals.
Recognize ethical issues related to data security, integrity, and privacy.
Work effectively in teams, demonstrate leadership and decision-making skills.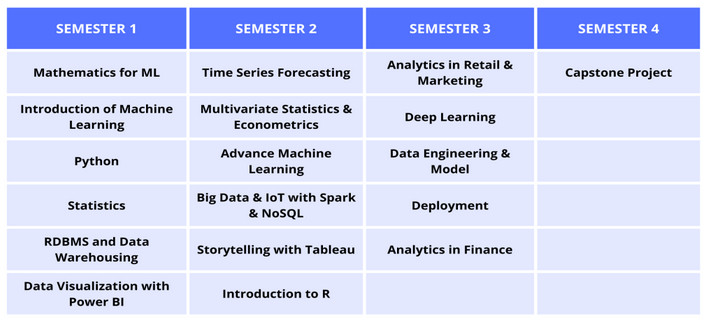 https://www.ptc.edu.sr/2022/08/31/ptc-start-met-master-opleiding-in-ict/