Soft Launch of Post Graduate Program in Cyber Security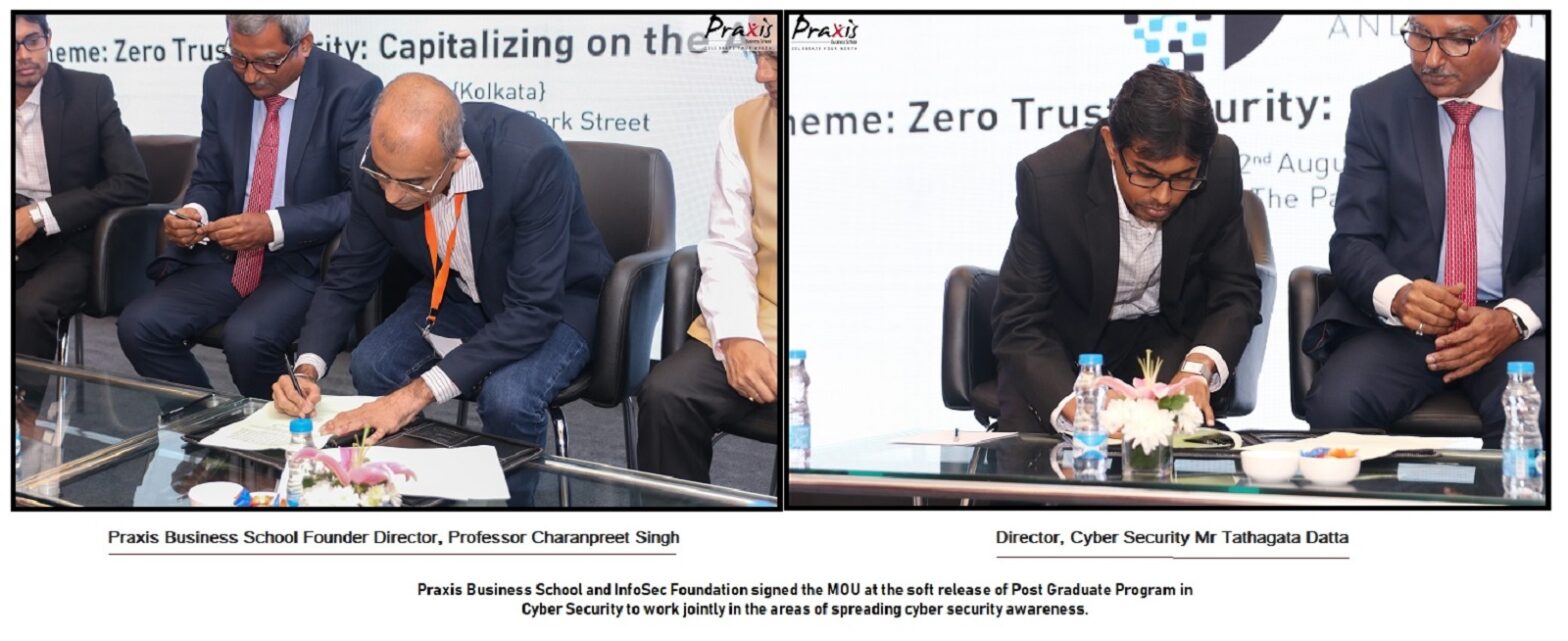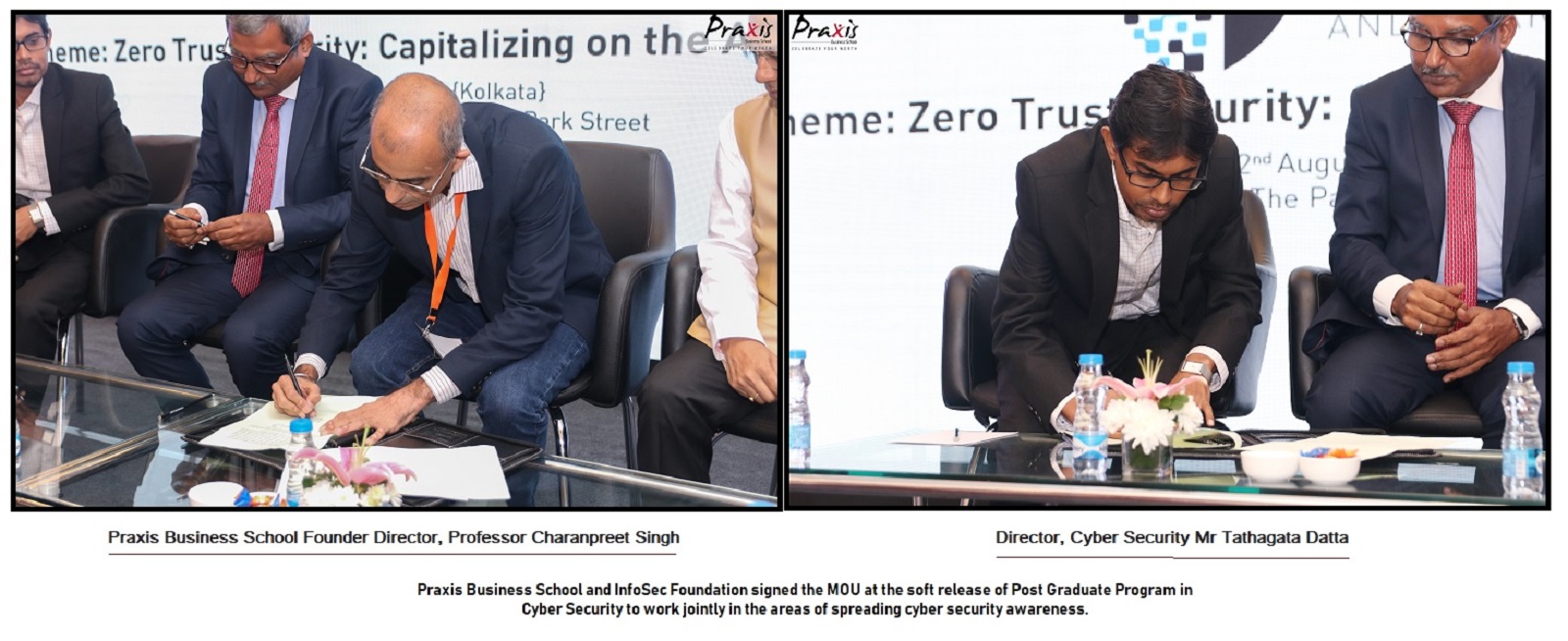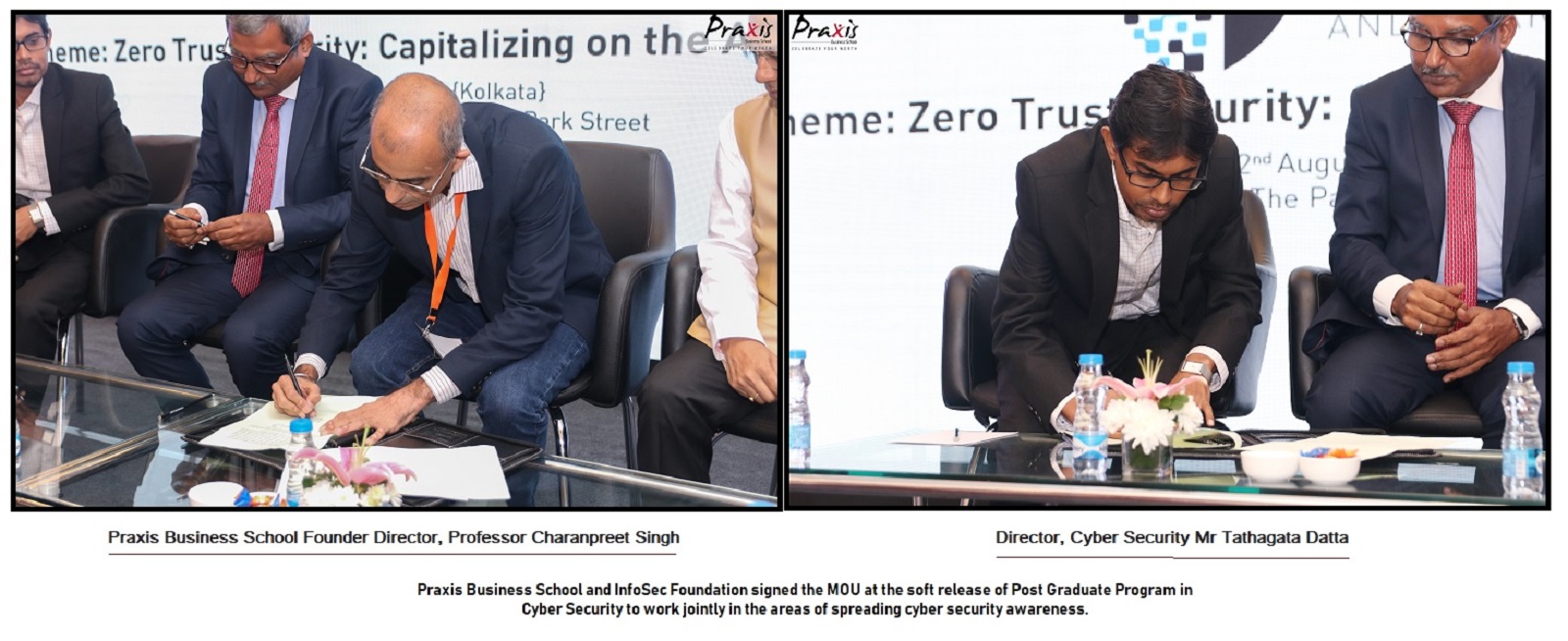 "Praxis Business School (PBS)" and "InfoSec Foundation" have signed a MoU on 2nd August 2019 to work jointly in the areas of spreading cyber security awareness through campus connect, workshops, seminars, quiz programs or other events as per the contextual requirements.

PBS Founder Director, Professor Charanpreet Singh and Director, Cyber Security Mr Tathagata Datta was present there to sign the agreement.
Infosec Foundation is a non-profit platform dedicated to cyber security and working on a collaborative framework to blend users, manufacturer, police, government, providers, policy makers and other respective stakeholders.
They have taken many initiatives for last three years including arranging events, seminars, workshops in Kolkata, Bangladesh, UK and Africa. InfoSec's efforts are well supported by with Kolkata Police, CID etc. for greater Citizen Benefit and Awareness.
InfoSec Foundation has been fortunate to have State Government, Law Enforcement Authorities, NTRO, DRDO, CERT, NCIIPC, IDRBT, ReiBit, Nasscom, DSCI, IEEE Comsoc etc to get associated with them and extend hands to build converged cyber eco system.
CISO Platform, Cyberfrat andCIO Klub are some of the leading national information security forums that collaborate with InfoSec Foundation. InfoSec Foundation in collaboration with Enterprise It World Magazine had organized a security symposium on 2nd August at Park Hotel, Kolkata.
As the name suggests, Security Symposium is an Enterprise level cyber security event which aims to gather CISOs and Cyber Security leaders from Enterprises pan India to reinforce the cyber security skill in the country through knowledge sessions and tech talks with the biggest names in Enterprise Security.
The signing of the MoU was followed by the soft release of Post Graduate Program in Cyber Security. The course was released through an on stage presence of Directors of Praxis Business School,
Regional Head of Fortinet Mr Ardaman Singh Kapoor and Chief Security Architect of CISCO Systems Mr Koushik Nath. India representative of Carleton University (Mr Gagan Agarwal) was also present on the event.
Additional Principal Secretary IT Mr Debasish Ghosh, Joint Secretary IT Mr Sanjay Kumar Das, Managing Director of Webel Mr Pradip Mukhopadhya, Dy Director General NIC Mr Saibal Sarkar and other industry leaders were also present during the launch of the program. Director Cyber Security of Praxis Business School Mr Tathagata Datta got the Cyber Sentinel Award of 2019 in the Security Symposium.
Praxis Business School had organized a lucky draw event and the same was conducted by Professor Sayantani Roy Choudhury, Mr Arnab Ghosh, Mr Anirban Choudhury and Mr Abir Banerjee.