The Champions of the World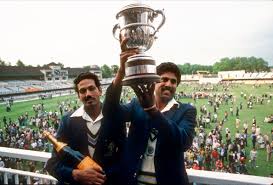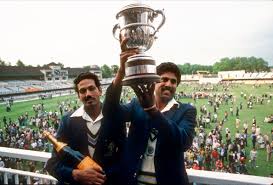 An unfancied band of underdogs walked out on to the hallowed field on a late June morning almost three decades ago. Their actions for the next few hours on that day dictated the sporting future of their nation.
No one thought that the Windies streak of consecutive world cup wins was going to end that day and no one certainly thought that a team that had only won one world cup game in the last two editions was going to end up as champions of the world. Everyone tried their best and managed to score a few, Srikanth top scored but the one eighty three was surely not going to be enough against a batting line up as strong as the early eighties West Indies.
And then Sandhu bowled a fabled inswinger, Kapil took a most unbelievable catch and Amarnath contributed with three wickets and just like that India were world champions. Of course the nation was swept with euphoria and joy but was it going to be short-lived? A certain person in the construction business thought otherwise, this local Calcuttan had other plans, grand plans.
The next edition of the Cup was in India, Eden hosted the finals and after a sojourn in the Sothern Hemisphere (Australia New Zealand), the Cup was back in India in 1996. India might not have been the strongest team then, but Indian cricket was gradually climbing up the power ladder. With the amount of fan following that India had and thus the sheer marketing opportunity, the BCCI leveraged that to the fullest and India was finally a financial powerhouse.
The inaugural T20 World Cup win and the subsequent launch of the IPL, India became a force to reckon with financially. Indian cricket had arrived and mostly at the back of the giant financial powerhouse that the board was. Indian cricket is a success story of intelligent and able sports administration – financial and marketing.
What and how do you suppose other sports and even business can learn from Indian cricket, let us know your thoughts!